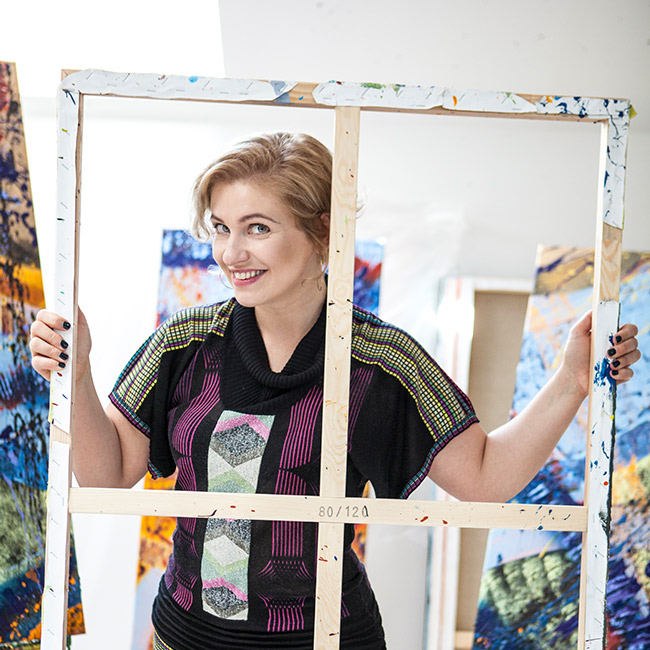 It is with great pleasure that I undertake the realization of oil paintings on request. Arrangements between me and the ordering party may concern the dimensions, color palette and painting's subject matter. In the world of custom art, the length of the sides of the painting is almost arbitrary, while the canvas can be shaped like a square, rectangle or circle. It all depends on your needs and your concept.
Or maybe you would like a diptych, triptych … hexaptic – meaning several images working in harmony to form a coherent whole? It is a perfect solution if you want to enrich your space with a consistent color palette or a common theme that appears in numerous paintings simultaneously. If that's the case, the paintings do not have to have the same dimensions, the sky is the limit here!
I also paint on round stretched canvases. This format is quite remarkable, unique and certainly has a huge impact on the room design.
When working on a custom oil painting, we will discuss the theme and subject matter together. The paintings presented on my website allow you to evaluate my style and demonstrate what I like to paint the most. However, I am open to any individual needs in this area. I know from experience that many of my clients are extremely passionate about their artwork having a particular color palette. I remain at your disposal…
As a result of such arrangements, a painting is created, born out of the client's needs and the artist's creativity. This type of cooperation brings a lot of emotions, gives great satisfaction and, above all, fits the occasion or the place where the artwork will eventually be placed. On request, I can send several of my projects. I also provide interior design advice, I can come to your apartment, restaurant or office, where my artwork would finally hang, enriching your interiors with the oil paint colors, which are so pleasing to the eye.